What's New
News from Kichijoji School
| | |
| --- | --- |
| 2nd March | We held a slightly earlier graduation ceremony.It is already March. Let's all enjoy the rest of our days together! |
Recruitment of Nursery School Children
 We are looking for a few new children for the 2023 school year.
 Even those who have difficulty enrolling in a licensed nursery school due to temporary, part-time, freelance, school enrollment, etc., may enroll if you have a regular childcare need*1.
How to apply / contact us
 Those who want to apply for a tour of the nursery, please fill out the Inquiry Form below.

 In 2015, CozyVillage, Inc. opened a licensed daycare center "Pikapika Nursery School" in Mitaka City, Tokyo.
 Currently, CozyVillage operates three daycare centers in the Mitaka and Musashino areas, together with "Pikapika Nursery School Kichijoji" and "Pikapika Nursery School Mitaka Station(Mitaka-eki)".
  CozyVillage aims to create a village of harmonious coexistence where diverse people live happily together with children at the core, and Pikapika Nursery School is a key component of this vision.
 Pikapika Nursery School is a nursery school that focuses on "the most important things for children from 0 to 3 years old". The caregivers care for the children as if they were their own and share their "lives" with them as if the nursery were another home, a big family. While being surrounded by the warmth and security of a home-like atmosphere, the children's foundation as human beings is nurtured and their "zest for life" is cultivated through a variety of play activities. It is especially important for the adults to play with the children and for the children to play with their bodies, even if it seems a little rough.
 We believe that "co-education, tactile education and food education" are the most important things for the education of children aged 0-3 and for the creation of a village of harmonious coexistence, and we will promote these three types of education (we call the combination of them "San-Iku" in Japanese) while having fun together.
Our Childcare Philosophy
 Pikapika Nursery School will develop each child's individuality, nurture a healthy mind and body, and create a nursery that shines with smiles.
 Infancy is the most important time in a child's life, when the foundations of a human being are being formed.
 What kind of childcare is needed during this time?
 First of all, we believe it is important to treat each child with the same love and affection as you would treat your own child.
 We respect each child's individuality and work with him/her with all sincerity to help him/her grow as a truly independent individual.
 We will create a nursery full of smiles, where children and parents can think and grow together!
Our parenting goals
(image of the child we want to raise)
Strong, independent, and stable
Kind, considerate and sensitive to others
Interested in everything and actively challenging themselves
Always cheerful with a bright smile
full of hope for the future
Our Childcare Policy
We create a safe and secure environment by listening and caring for children.
We value the rhythm of daily life and help children acquire basic skills.
We help children develop their talents through a variety of playful activities.
We nurture children's rich sensibilities and social skills through a variety of interactions.
We value close communication with parents and involvement with the local community.
A day in the Pikapika Nursery School
 In a relaxed, home-like atmosphere, Pikapika Nursery School will meet each child's needs appropriately, while valuing their imaginative abilities and watching over them so that they can achieve rich growth.
 At the same time, we at Pikapika Nursery School will make every effort to help the children acquire the ability to live and think, which is necessary to nurture the foundation for creating a desirable future.

 The children eat "anchovies" together every morning as a snack. It is a good source of calcium and strengthens the jaw.
 After a walk, the hunger is satisfied by a Japanese meal prepared with fresh ingredients, spices and other special cooking methods.
 Snacks after lunch are also homemade and freshly prepared, such as gohei onigiri (rice balls) and udon noodles with many ingredients.
 The children are also exposed to seasonal vegetables by growing vegetables in planters, cooking snacks, making miso (fermented soybean paste), and picking sweet potatoes at Mitaka Organic Farm in the fall. We actively incorporate activities that naturally stimulate interest in "food.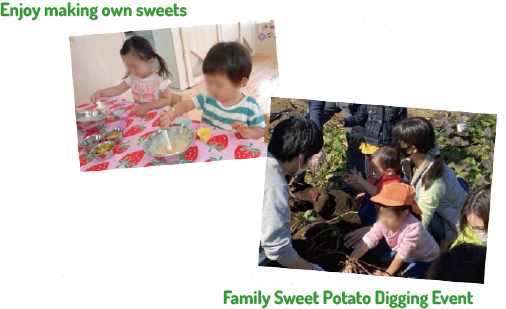 On daily walks, the children touch the soil, plants, trees and insects with their caregivers.
 - Hot and cold, warm sunshine and cold winds - when it rains, they put on a raincoat and go for a walk in the rain!
 Throughout the year, children nurture their five senses by touching and feeling the seasons with all their bodies.
 Indoors, children paint with their hands, tear and paste paper, and create with a variety of techniques. They also enjoy gentle stimulation with toys that use their hands, puzzles that use their heads, and so on.
 Eurhythmics classes are held every week. We develop the children's ability to feel sounds and rhythms and to express themselves through music.
In order to expose the children to a variety of stimuli and nurture their rich sensibilities, the teachers actively read stories, sing nursery rhymes, and use color education and other activities.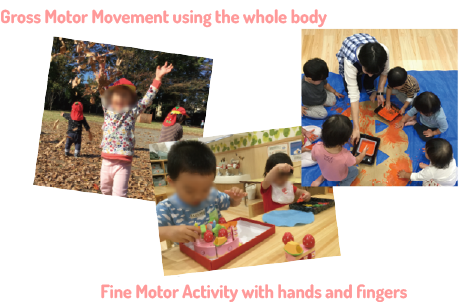 Pikapika Nursery School is a nursery school for children from 0 to 2 years old, with a maximum of 19 children in each school (*up to 12, Kichijoji School).
 All children and caregivers spend their days together as one big family.
 The older children treat the younger ones with kindness and nurture their compassion, while the younger ones grow by imitating the gestures of the older ones. This is the kind of growth that can only come from vertically structured child care.
 The children walk every day. The whole city is the schoolyard. The whole town watches the children grow as they greet and interact with the people who live there.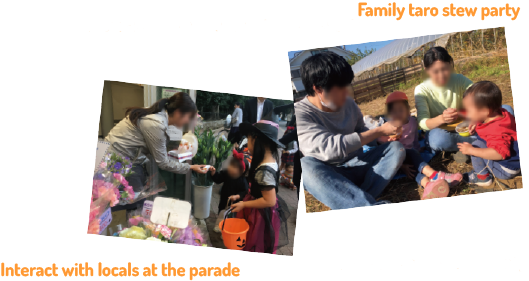 Introduction of Pikapika Nursery School Kichijoji
 Pikapika Nursery School Kichijoji faces Itsukaichi-Kaido-Avenue and is surrounded by many green parks and children's centers in nearby Suginami Ward and Musashino City.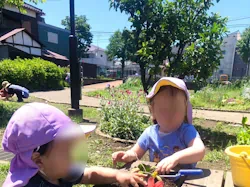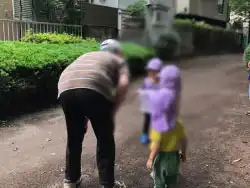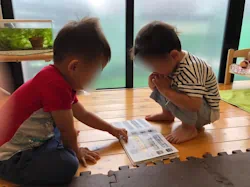 With a capacity of 12 children, we offer vertically divided childcare from 0 to 2 years old. Children spend their time in a warm, family atmosphere.
 The teachers share the individuality of each child and take care of the child's personality.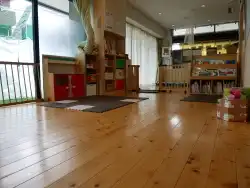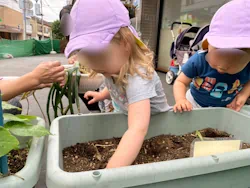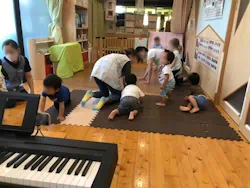 The school's spacious nursery is surrounded by the warmth of Tama Timber.
 In the front yard, planters are lined up to grow a variety of vegetables. The children also play with car carts, water play, and dynamic drawing on the ground.
 We walk a lot every day and play a lot in the park, even getting muddy. On our walks, we see many of our neighbors, such as residents of nursing homes, shopkeepers, etc.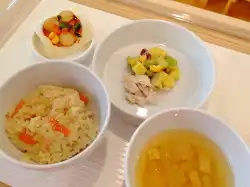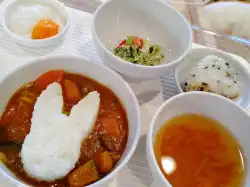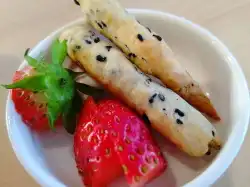 For lunch, the children eat mostly Japanese food, which is homemade in the kitchen.
 Eurhythmics and Color Education classes are held every week. Through exposure to sound, rhythm and color, their sensitivity and expressiveness are nurtured.
Pikapika Nursery School Kichijoji Outline
Name
:
Pikapika Nursery School Kichijoji
Type
:
Kigyo-Shudougata-Hoiku-Jigyo(daycare system for people working in companies)

*1,2

Admission Capacity
:
12 (4 for 0-year-olds, 4 for 1-year-olds, 4 for 2-year-olds)
Opening Days
:
Monday through Saturday
Opening Hours
:
7:30 to 19:30 (with extended hours from 18:30 to 19:30)
Closed
:
Sundays, National Holidays, Year-end and New Year holidays
Building
:
5-story reinforced concrete structure, 1st floor
Facility
:
Nursery room:42.5sqm  Cooking room:5.0sqm  Office:3.5sqm  Infant toilets:5.5sqm  Others:16.6sqm  Total:73.1sqm
School Yard
:
64sqm

MAP
 Map of Pikapika Nursery School Kichijoji area. Please reload the page if the map does not appear here.
4-28-10-102 Kichijoji-Minamicho, Musashino-City, Tokyo, JAPAN 181-0003
15 min. walk from Kichijoji Station, 9 min. walk from Nishi Ogikubo Station
(Please also see here for the approximate time required to get to the Kichijoji School)
Contact
 Thank you for your interest in Pikapika Nursery School.
 Please use this [Inquiry Form] to contact us for enrollment and various inquiries.